THE BEST PAINT PROTECTION FILM IN DOTHAN AL
A car is a major investment, and since its paint job is one of the most valuable assets, you want to invest in a product like ceramic pro-PPF. This will not only protect your car's paint but also keep it looking shiny and new for years to come!
PAINT PROTECTION FILM (PPF)
Do you want to protect your car from damage? Not only do we specialize in KAVACA window tint, but we also have KAVACA paint protection film Dothan AL as well!
KAVACA PPF is a high performance aliphatic polyurethane film. It is specifically designed to protect painted surfaces and other materials from abrasion, corrosion, chemicals, and other types of physical damage. Within the KAVACA line of paint protective films, are multiple customized solutions – including KAVACA Instant Healing Paint Protection Film Dothan AL and KAVACA Matte PPF.
The best way to keep your vehicle looking new for years is by protecting it with an exterior coating that can withstand anything life throws at it. Whether you're driving through puddles or parking in a dusty lot, our products will help shield your car from the elements so you don't have to worry about rusting or fading paint jobs anymore! You deserve peace of mind when it comes time for auto detailing services because we know how important this investment is for you as well as future resale value. We offer free consultations on all our products so call us today!
WHAT IS PAINT PROTECTION FILM?
Paint Protection Film Dothan ALis a thin, clear, and virtually invisible film that covers the surface of your car. Ceramic Pro PPF delivers years of protection for your car's paint in just one easy installation! You can help preserve your vehicle's value by making sure it always looks phenomenal.
The Ceramic Pro PPF is not only challenging but also very flexible and adaptive to the vehicle body. It has the unique ability to self-healing minor scratches and will do so over time with exposure to sun rays. KAVACA Paint Protection Film Dothan ALis the best way to protect your vehicle from exposing it to day-to-day road hazards. 
our paint protection film process
Subscribe to our youtube for more content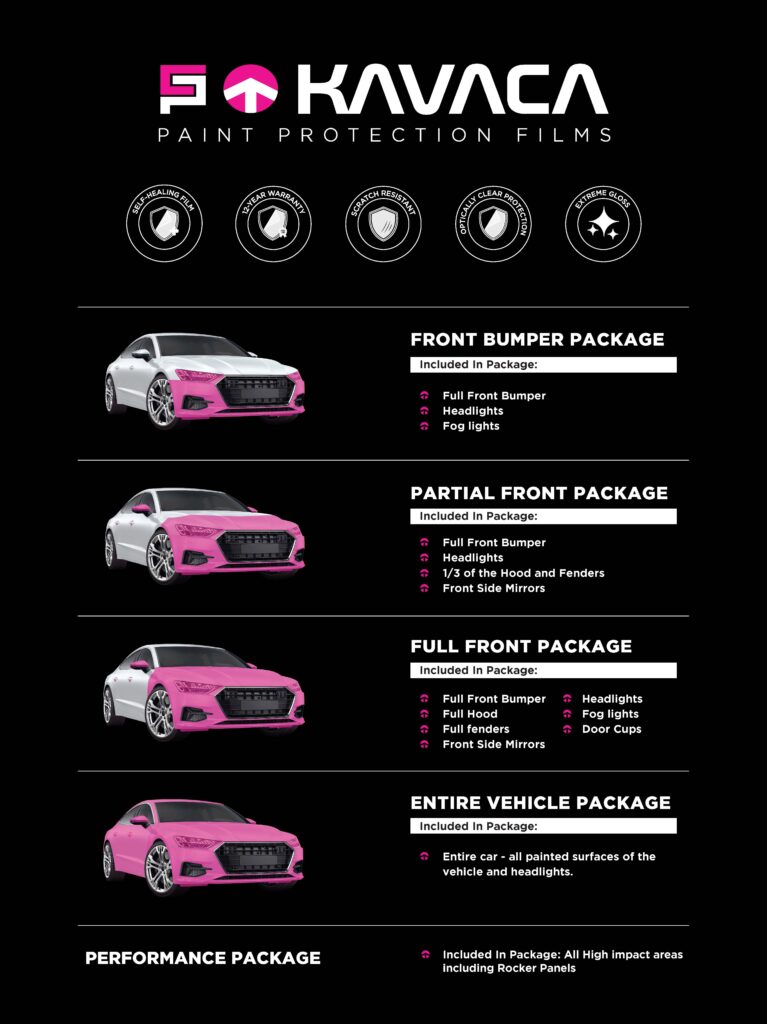 Durability & Rock Chip Prevention
The KAVACA paint protection film Dothan ALresists the elements and will last for many years. PPF provides a smooth surface to protect against adverse weather conditions and provide protection from everyday damage, like rock chips. Don't worry if you drive your vehicle often or store it for the winter months; KAVACA Automotive Films will keep your car looking new!
Paint Care & Maintenance
Ceramic Pro Paint Protection Film Dothan ALis extremely easy to clean. The film cleans up easily with just water and mild soap. There is no need for an expensive professional detailing and car washes. Car PPF will reduce your paint care maintenance frequency because it protects your paint job from contamination, dirt, debris, etc.
Designs & Colors
PPF is available in many different designs, colors, and patterns. It also comes with a clear protective finish to ensure easy cleaning and enhance the longevity of your paint job! So whether you want to protect your vehicle's paint job or add a finishing touch, KAVACA Automotive Films is the company for you.
WHY CHOOSE OUR PPF SERVICE?
Ceramic Pro Paint Protection Film Dothan ALis an excellent way to protect your vehicle from abrasions and scratches. It can also help reduce the need for auto detailing, which saves you time and money! The film comes with a clear protective finish that will keep it looking new longer than other products on the market. With all these features, Ceramic Pro Wiregrass make the best choice for you or someone on your list! If you're ready to invest in protecting your vehicle's paint job, then contact us today to learn more about how Ceramic Pro PPF can work for you!